Boracay is a tropical paradise on a small island in the Philippines, renowned for its white sand beaches and crystal-clear waters. While there are several ways to reach this paradise, one of the common routes is via Kalibo International Airport. In this guide, we'll explore the best ways to get from Kalibo to Boracay, including transportation options, travel time, and insights into Kalibo International Airport.
The Best Way From Kalibo Airport to Boracay
Traveling from Kalibo International Airport (KLO) to Boracay Island can be an adventure in itself. While there are various options available, such as buses, vans, and private cars, the most convenient and hassle-free way to reach Boracay island from Kalibo airport is to opt for a reputable transfer service like MyBoracayGuide Transportation.
MyBoracayGuide Transportation offers a seamless and comfortable journey to Boracay from Kalibo Airport. Their all-inclusive packages cover both land and boat transfers, ensuring a smooth transition from the airport to your hotel's doorstep. With professional drivers and well-maintained vehicles, you can relax and enjoy the picturesque views en route to Boracay.
Map from Kalibo to Boracay
The journey from Kalibo to Boracay involves a combination of land and sea travel. Starting from Kalibo Airport, you'll embark on a 2-hour bus or van ride to Caticlan Jetty Port. From there, a 10 to 15-minute ferry ride will take you to Boracay. Here's a map to give you a visual overview of the journey: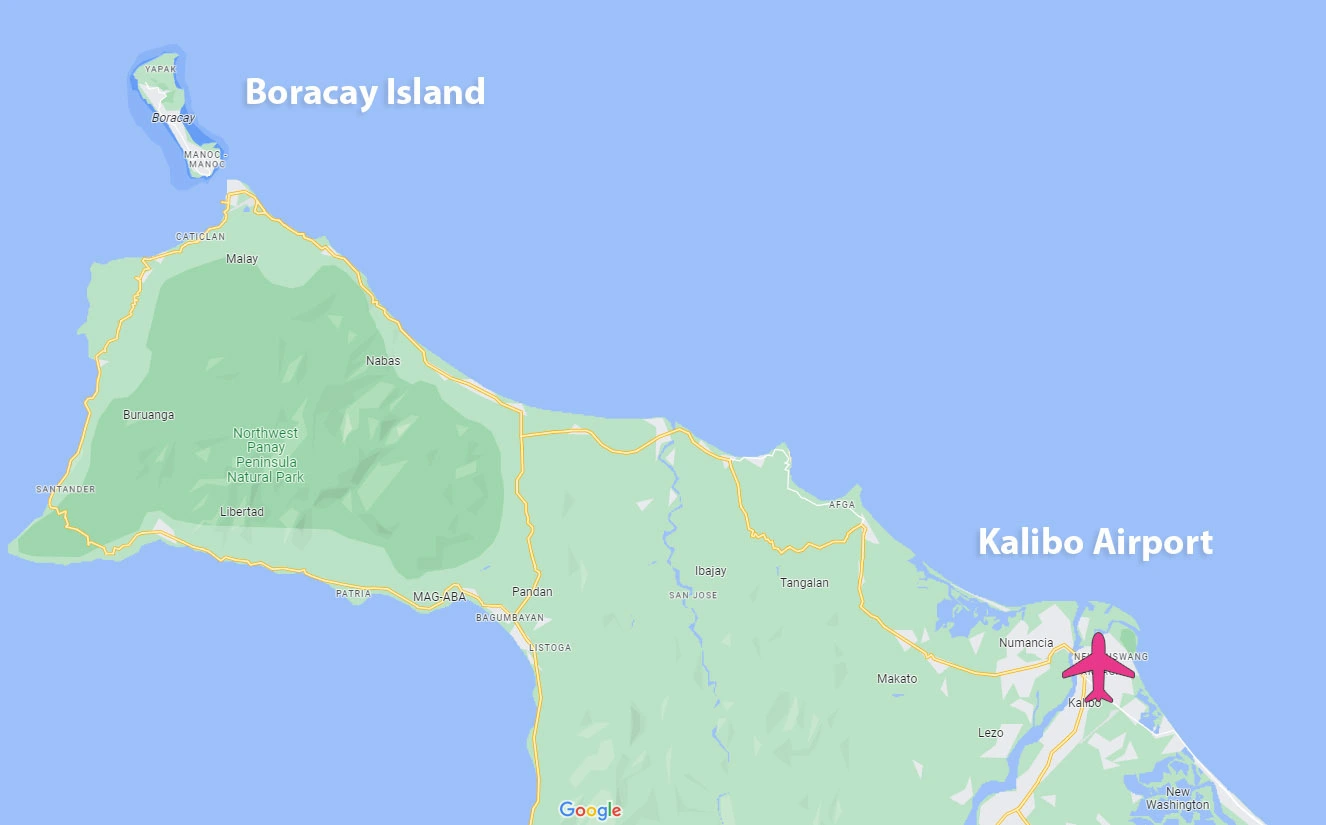 About Kalibo International Airport
Kalibo International Airport serves as one of the gateways to get to Boracay Island. It's known for its accessibility and often offers more affordable flight options compared to other nearby airports. With several domestic flights from Manila and international flights from Taipei, Seoul, and Wenzhou operating from Kalibo, it's a popular choice for travelers heading to Boracay.
The airport offers essential amenities like restaurants, shops, and currency exchange, providing a convenient start to your adventure.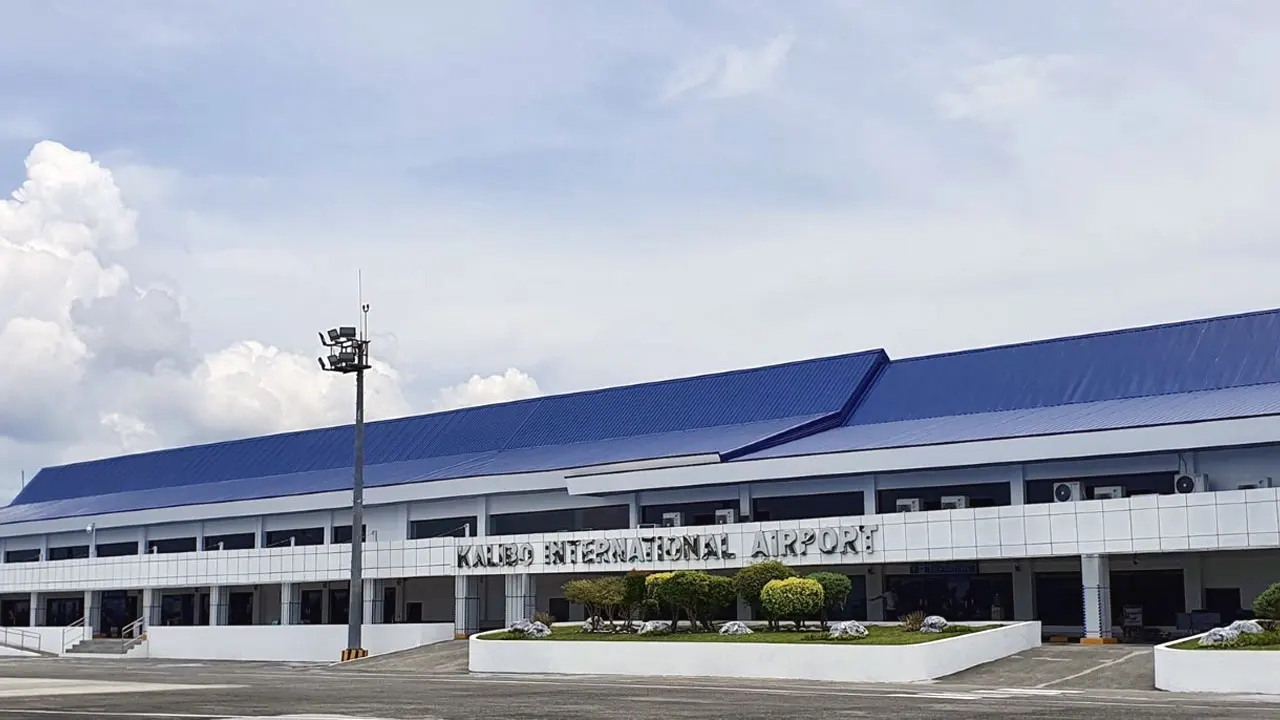 Travel Time from Kalibo Airport to Boracay Island
The total travel time from Kalibo Airport to Boracay typically ranges from 2.5 to 3 hours, depending on the mode of transfer, traffic, and weather conditions. Here's a breakdown:
Land travel from Kalibo Airport to Caticlan Jetty Port: Approximately 2 hours (70.0 km distance).
Ferry ride from Caticlan Jetty Port to get to Boracay Island: 10 to 15 minutes.
It's wise to plan accordingly, especially if you have a tight schedule, as travel times may vary.
Travel Options from Kalibo to Boracay
Traveling from Kalibo to Caticlan Jetty Port is a common route for tourists heading to the beautiful Boracay Island. There are several transportation options available, each catering to different preferences, destinations and budgets. Here's a comprehensive guide to help you choose the best way to travel from Kalibo to Caticlan Jetty Port:
Shared Van Transfer: The shared van is a popular and economical choice. These vans are available at Kalibo Airport, but there can be a long waiting time. Moreover, you can find vans at Roxas Avenue, in front of the Ceres Terminal, and at City Mall Kalibo.

Cost: Usually affordable, depending on the provider.
Convenience: You may have to wait for the van to fill up with other passengers. They may also pick up passengers along the way.
Travel Time: Approximately 1.5 to 2.5 hours.

Private Van Transfer: For a more comfortable and private experience, consider a private van. My Boracay Guide offers door-to-door private transfers from Kalibo Airport or any location in Kalibo to your hotel in Boracay. This ensures a good service, hassle-free, and comfortable trip. Given the excellent service, the price is quite reasonable.

Cost: Higher than shared van.
Convenience: Immediate departure without waiting for other passengers.
Travel Time: Approximately 1 to 1.5 hours.

Taxi to Boracay Island: Taking a taxi directly to Boracay is another option, suitable for those looking for a more personalized service.

Cost: Varies, usually more expensive than van transfers.
Convenience: Immediate departure without waiting for other passengers.
Travel Time: Approximately 1 to 1.5 hours.

Bus from Kalibo to Boracay: For locals and those on a tight budget, the local bus from Kalibo is a viable option. The Ceres local bus terminal is located at Osmeña Ave, Kalibo, Aklan.

Cost: Generally the most affordable option.
Convenience: Buses run regularly but may be crowded.
Travel Time: Approximately 2 to 2.5 hours.
Bus Schedule for Kalibo to Boracay Island
Buses from Kalibo to Boracay run frequently. The first bus departs early in the morning, around 5 AM, and the last bus leaves around 7 PM. They run every hour or so. The bus fare from Kalibo to Caticlan is quite affordable, making it a favorite among locals and budget travelers.
Renting a Car in Kalibo
Renting a car in Kalibo offers the freedom to explore at your own pace. However, due to a limited number of tourists, there are fewer car rental options. Always verify the authenticity of the renter and check the rental agreement terms.
Riding a Bicycle from Kalibo to Boracay
For cycling enthusiasts, biking the main road from Kalibo to Boracay offers a unique view of the local landscape. While there aren't bike rental shops available, if you have your bike, it's a perfect adventure. MyBoracayGuide can assist with luggage transfers.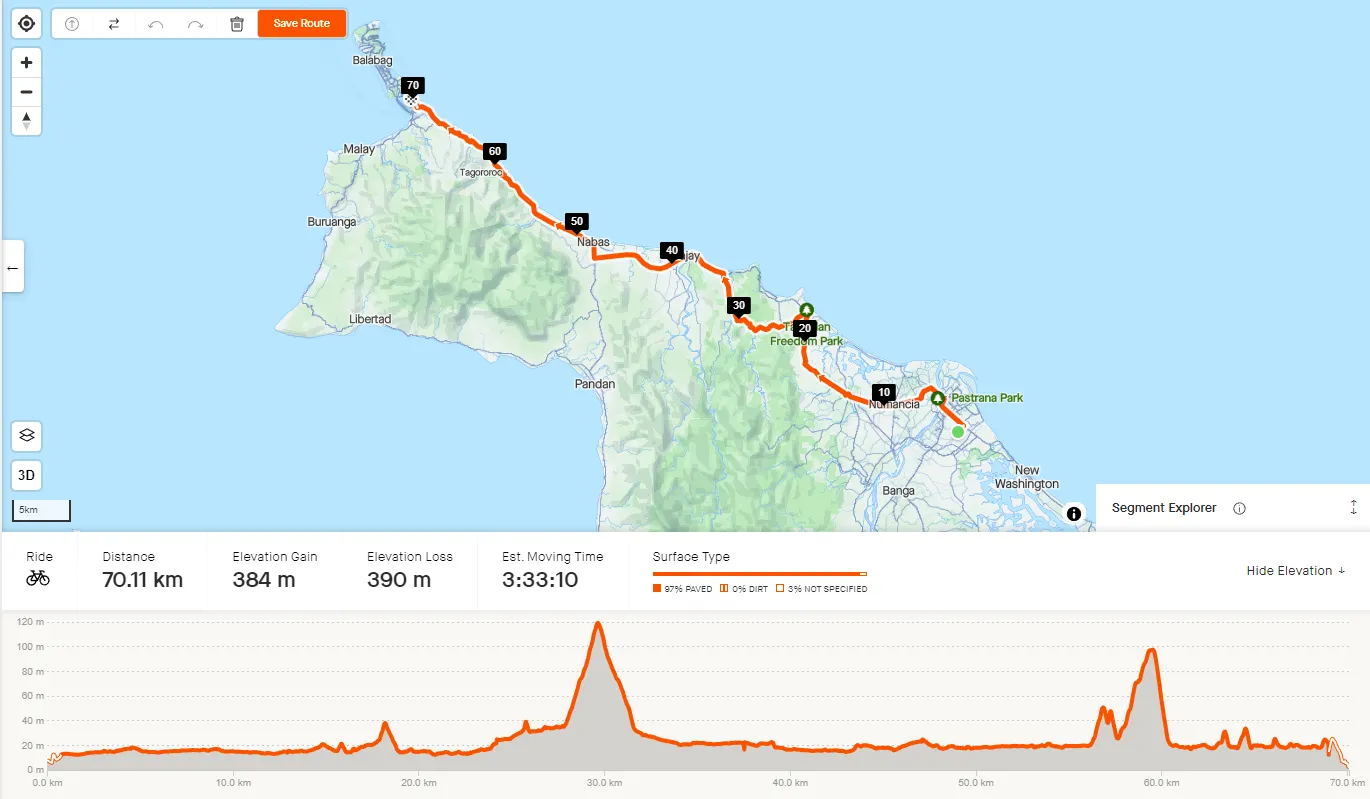 Kalibo to Boracay by Ferry
Previously, there was a direct ferry service from Kalibo to reach Boracay. However, now ferries only operate from Caticlan Jetty Port to Boracay. The ferry ride distance from Caticlan to Boracay is short, taking only about 10 to 15 minutes. It's essential to check the ferry schedule and book your tickets in advance, especially during peak tourist seasons.
Kalibo to Boracay Package Transfer: Bus, Ferry and Van
For a seamless experience, consider choosing a package transfer from Kalibo to Boracay. This package usually encompasses a bus or van ride to Caticlan, a boat fare to the island, and a direct van service to your hotel. If your accommodation is on white beach or is inaccessible by vehicle, MyBoracayGuide provides a door-to-door transfer service. Their all-inclusive Boracay Transfer Pass is not only convenient but also offers great value, covering all necessary fees such as the ferry boat ticket amount, environmental fee, and terminal fee, ensuring a smooth transition from Kalibo right to your Boracay hotel doorstep.
Night Transfers From Kalibo to Boracay
Most people with late-night flights arrive at Kalibo Airport. While night transfers from Kalibo to Boracay are available, trying to arrange a transfer upon arrival can be stressful. To alleviate this anxiety, MyBoracayGuide offers night navigation services. This provides a flexible and reliable option for those arriving late, inclusive of boat ticket, terminal fee, and environmental fee. Ensuring a smooth and worry-free travel to your destination.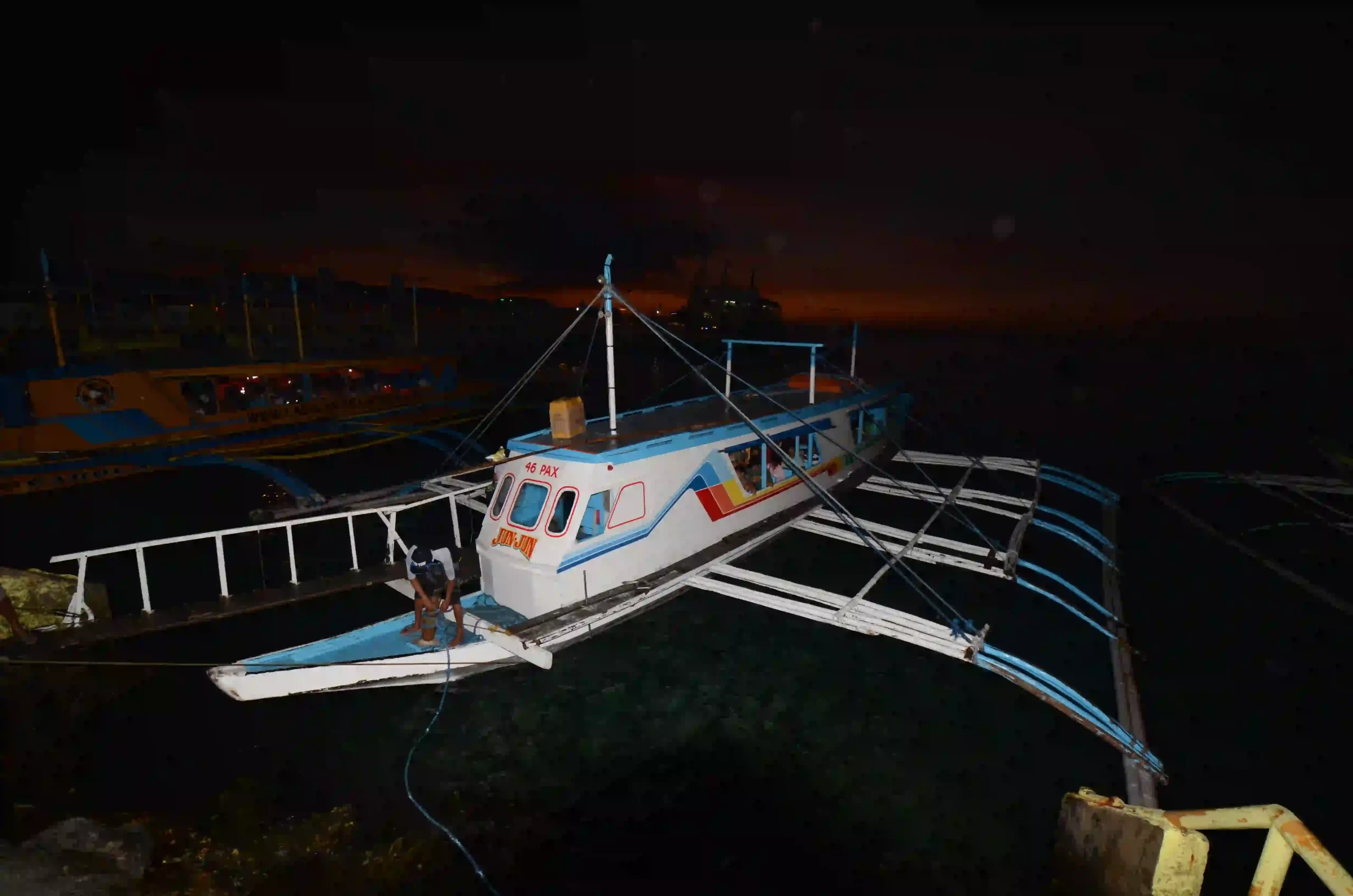 Arriving in the Caticlan Jetty Port
Tourists arriving at the Caticlan Jetty Port, you'll need to pay the same boat transfer fare, terminal and environmental fees. However, the boat transfer depends on the season. Amihan is known as the Northeast monsoon while Habagat is known as the Southwest monsoon. For Amihan Season (October to the end of March), the port used is Caticlan Port and Cagban Port. While the Habagat (April to September), the port used is Tabon Port and Tambisaan Port. Check the latest fee table for accurate information.
| | | | |
| --- | --- | --- | --- |
| | Environmental Fee | Terminal Fee | Boat Fee |
| Local Tourist | 150.00PHP | 150.00PHP | 50.00PHP |
| Foreign Tourist | 300.00PHP | 150.00PHP | 50.00PHP |
Cagban Jetty To Your Hotel On Boracay
From Cagban Jetty, various transport options are available to take you to your hotel on Boracay. Such as Multi-cab, E-trike (tricycle), and van. Purchase a ticket and your tricycle driver will help you reach your destination hotel.
Boracay to Kalibo Airport: Getting Back for your Departing Flight
When it's time to leave Boracay, it's crucial to plan your return transfer to Kalibo Airport in advance. This will help you avoid any last-minute flight stress. Alternatively, you can book ahead with a trusted provider to ensure a smooth and hassle-free departure.
Travel Tips for your Trip from Kalibo to Boracay
For Group Travelers:
Plan Ahead: Organizing your trip in advance can alleviate potential stress. This includes booking transfers, verifying ferry schedules, and pinpointing your Boracay accommodation.
Pack Light: With multiple transfers involved, traveling light ensures comfort. Most accommodations in Boracay provide laundry services.
Arrive Early for Transfers: To ensure you don't miss your scheduled transport, arrive ahead of time at the terminal.
Choose Trusted Transfer Services: For a guaranteed smooth transition, book with MyBoracayGuide, a reputable provider known for its reliability. They offer tailored services for group travelers, ensuring added comfort and assistance. Plus, by booking with them, you can save by availing of exclusive discounts and perks.
Traveling with Senior Citizens:
Consider Their Needs: Senior citizens might prefer more comfort and minimal transfers. It's essential to book with a trusted service to ensure their needs are prioritized and met.
Prepare for the Weather: Dress in light, breathable clothing. Carry sunblock, hats, and sunglasses. An umbrella or raincoat is essential for unexpected rain.
Keep Important Documents Accessible: Senior citizens might need to present their IDs for discounts. Ensure these are easily reachable. With MyBoracayGuide Transportation, foreign and local senior citizens has 20% discount.
Be Patient and Flexible: Unpredictable weather conditions or unexpected delays can occur. A flexible attitude is key, and remember, the journey is part of the experience.
Traveling with Children:
Child-Friendly Facilities: If traveling with kids, ensure your accommodations and transfers are child-friendly.
Stay Hydrated and Pack Snacks: The journey can be lengthy. Keep everyone hydrated and carry snacks to stave off hunger.
Entertainment: Bring along items to keep children entertained during the journey, such as books, games, or tablets.
Traveling with Persons with Disability:
Plan According to Their Needs: Ensure the travel is comfortable and accessible for them. This might include booking specific transfer services or accommodations.
Use Reputable Transfer Services: Some services cater specifically to those with disabilities, ensuring comfort and necessary assistance.
Indulge in a Relaxing Massage
After the thrilling yet tiring transit from Kalibo to Boracay's beautiful beaches, a soothing massage awaits as the ideal relaxation. The multiple transfers and eager anticipation can be taxing, but Boracay's therapeutic touch is the ultimate solace.
Envision yourself in a tranquil spa, surrounded by the aroma of essential oils and the soft murmur of waves. Expert hands ease away your travel-induced tension, revitalizing you with each motion.
Boracay is home to numerous spas, each blending Filipino traditions with modern techniques. From the invigorating Swedish massage to the comforting warmth of hot stones or the local 'Hilot' method, there's a treatment for all.
For those who love the sea's proximity, many resorts offer beachside massages. Imagine being pampered under palm trees on white beach as the sunset adorns the horizon.
To sum up, once you've checked into your hotel for your stay and explored the island a bit, reward yourself with a massage. It's the best way to truly begin your Boracay experience.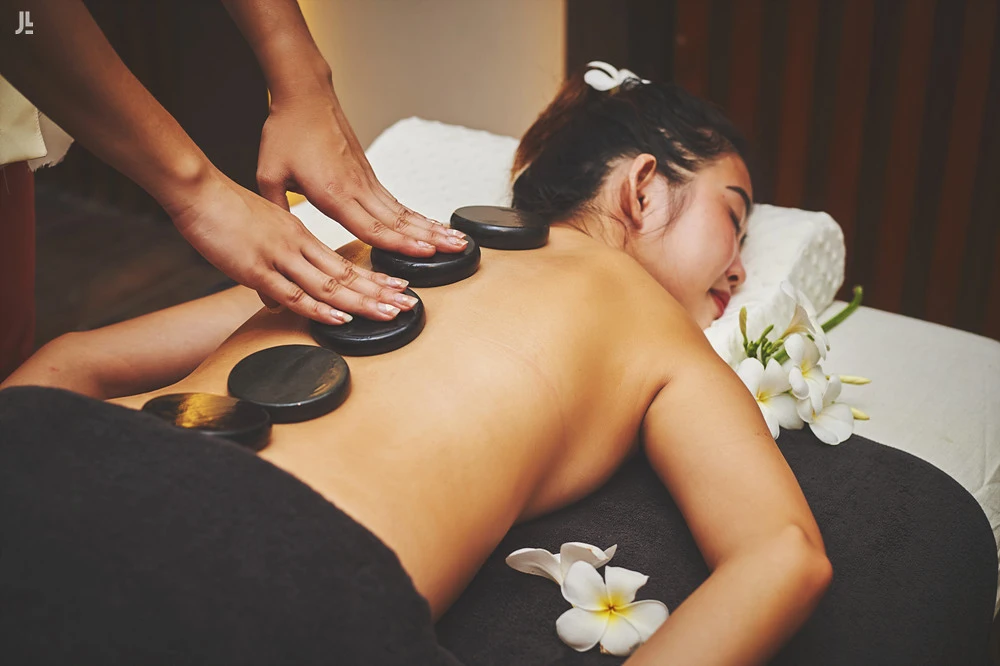 At the End of the Day
Traveling from Kalibo to Boracay is an adventure filled with picturesque views and various transportation options. Whether you opt for a shared transfer, private transfer, or even a bicycle ride, the journey is part of the Boracay experience. With careful planning and a flexible attitude, you can ensure a smooth and enjoyable travel. From the moment you step off the plane at Kalibo International Airport to the moment you set foot on Boracay's pristine white sand beaches, every step of your adventure is an opportunity to get to Boracay and create unforgettable memories. So pack your bags, plan your itinerary, and embark on an exciting journey from Kalibo to Boracay. Safe travels!
Frequently Asked Questions (FAQs)
How long is the boat ride from Kalibo to Boracay?

There isn't a direct boat ride from Kalibo to Boracay. Travelers first need to travel by land from Kalibo to Caticlan Jetty Port, which takes about 1.5 to 2 hours. From Caticlan Jetty Port, the boat ride to Boracay takes approximately 10 to 20 minutes. Also, the boat ticket costs 50.00PHP per person.

Is there a ferry from Kalibo to Boracay?

No, there isn't a direct ferry from Kalibo to Boracay. You'll need to take a land transfer from Kalibo to Caticlan Jetty Port and then take a boat or ferry from there to Boracay.

Can I travel to Boracay via Kalibo?

Yes, many travelers opt to travel to Boracay via Kalibo, especially when direct flights to Caticlan are unavailable or more expensive. From Kalibo, you can take a van or bus to Caticlan Jetty Port and then a boat to Boracay.

Which is better Caticlan or Kalibo going to Boracay?

Caticlan is closer to Boracay and offers a more direct route, making the travel shorter. However, flights to Caticlan might be more expensive than those to Kalibo. Kalibo Airport, on the other hand, is further away but might offer cheaper flight options. The choice depends on your budget and how much travel you're willing to endure.

Is Kalibo cheaper than Caticlan?

Generally, flights to Kalibo Airport tend to be cheaper than flights to Caticlan. However, you'll need to factor in the additional cost and time for the land transfer from Kalibo to Caticlan Jetty Port.

How much is the taxi from Kalibo to Caticlan?

Taxi transfer from Kalibo to Caticlan can vary based on several factors, including the time of day, traffic, and using a metered taxi. However, this is a pre-booked. Also, there is a taxi transfer but you need to have direct contact ahead of time. Also, make sure that you had contact a trusted service. On average, you can expect to pay between PHP 1,500 to PHP 2,500. It's always a good idea to confirm the fare with the driver before starting the journey.